Variable weather during syrup season is expected. We've waited out cold spells or warm spells in past seasons. Rain. Snow. Sleet. Fog. And perfect sap weather. If you do any agricultural activity, you better be an optimist. But this season was still an outlier. Even when we had freezing nights and sunny days with the tree pressure ranging from -10 PSI to 20 PSI, we still didn't have sap runs. Until the last week in March, it looked like it would be an historically poor season. The frost was deep because there wasn't much snow cover this winter. When it warmed above freezing we had rain followed by below 0 temperatures, driving the frost deep. The trees didn't run until the frost came out.
Researchers at the University of Vermont Proctor Maple Research Center site several reasons why sap may not flow even when weather conditions are favorable.
1.) Thermal inertia. Trees are big and it takes time for them to warm
2.) Depleted moisture after prolonged cold. Until there is a good thaw followed by freezing conditions to recharge the moisture in the system, sap flows will be weak.
3.) Uneven warming in trees. Sunny sides warm and produce sap runs while shady sides stay cold.
Point 2 seems most applicable to this season. Any moisture in the ground was frozen and not available to the tree. We got sap March 30 and March 31 as the frost depth receded. The frost came out completely between Noon and 3 :00 PM on March 31. We know this because at Noon when we left the woods there was 2" of water on sidewalk by the syrup building. At 3:00 PM when we returned to collect, the water had soaked into the ground. Big sap run after that on April 2.
Here are pictures of the bottom of flue pan before cleaning and after cleaning.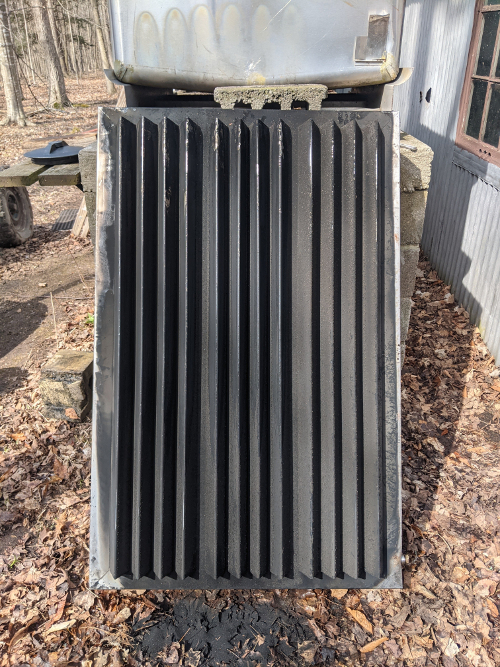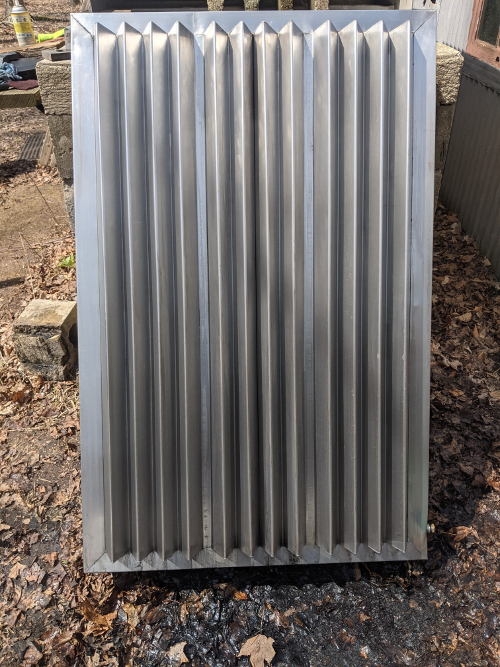 Glad we could use the R/O. Feels like cheating especially when we see neighbors steaming away all day for several days in a row. Burned 2.3 cords of wood in the evaporator.
In the end, we had an above average season. With 500 taps we would have had 100 gallons of syrup. We are happy with the season.